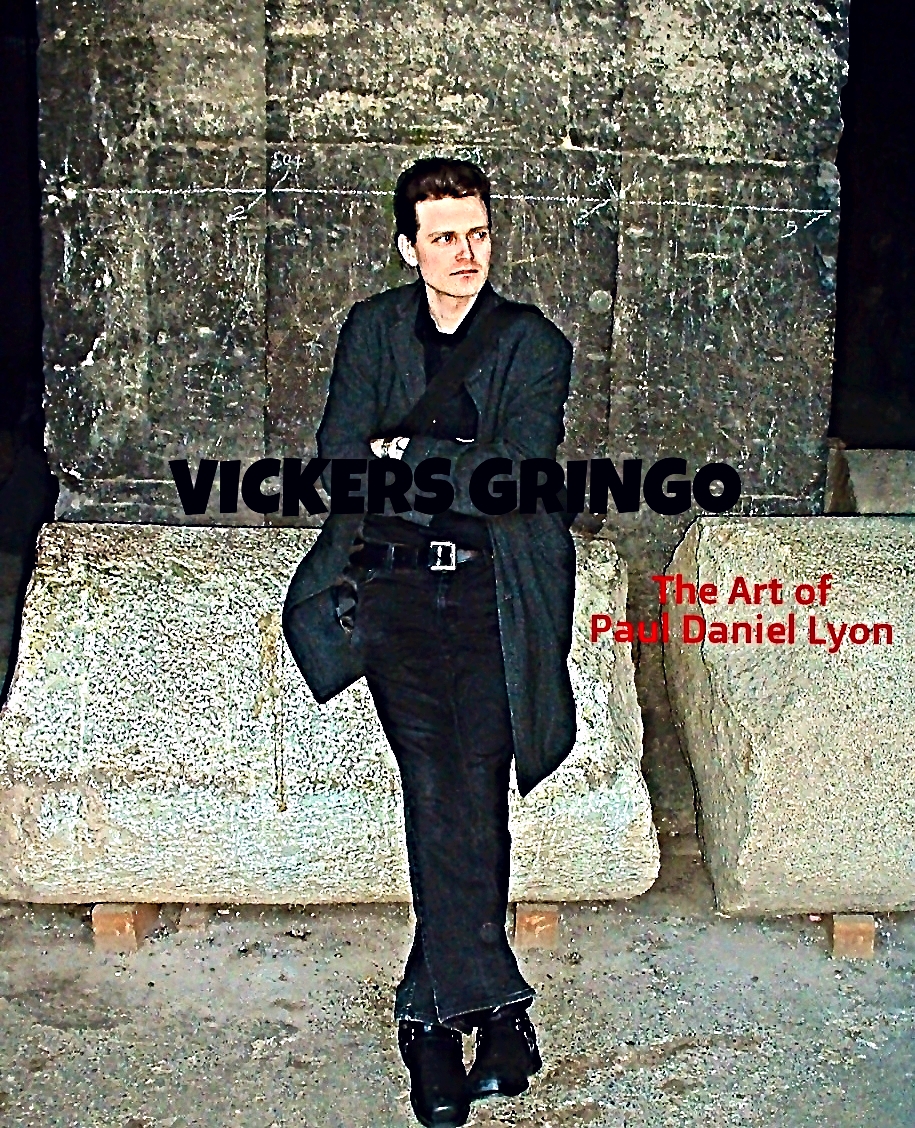 The Deuce And A Quarter
live 2.27.09 at Brooklyn Music & Film Fest
Based in New York City, The Deuce & a Quarter was founded by Vickers Gringo in 1998. Vics remained the band's lead guitarist and songwriter-singer throughout its various incarnations over more than a decade. Its music is an original rock sound incorporating various American rock traditions from heavy metal to rockabilly as well as surfer rock in the style of Dick Dale. By 2000, The Deuce was regularly performing in classic NYC venues like the East Village's CBGB's (now defunct as an East Village radical-rock venue), the West Village's Knitting Factory, Cafe Europa, Brooklyn's Trash Bar, Hanks, and others. Various recordings of The Deuce work exists, and many pieces are compiled in the CD "10 Years Under the Knife" (2008).
Lead Vocals & Guitar / Vickers Gringo
Vocals & Keyboard / Adam Chimera
Vocals & Bass / Pat Soriano
Drums / Jerry Rimesso
The Deuce & a Quarter's Live performance of "Amero," 2009:
vickers' CARTOON art
Many of Vickers Gringo's cartoon panels were published in The New York Waste, a free journal of music and art news published out of New York City's East Village. Other cartoon art remains unpublished at this time, including Vickers's unfinished graphic novel "Pests," and some mixed-media works. The cartoon images included on this website exist as part of of a collection of 18 gallery-quality digital prints printed on fine papers by Rachel Ridout, Vickers's partner and also an artist. The prints were made possible through a grant provided by the Alfred University Institute for Electric Arts (IEA) in 2011, and will be available for sale through a gallery exhibit in the future.
vickers at work
For more Vickers Gringo cartoon images and information about the 18 gallery-quality prints of his work, go to
Vickers the video artist
& Animator
Vickers was an award-winning video artist /filmmaker and editor. While he often filmed and edited videos professionally for musical groups and businesses, he also was at heart a video artist. His own video features include Dependence (1998, black and white, 55 minutes), made while he was still an art student at Alfred, and which is the subjective account of a addict through one day and night experiencing a hallucinatory trip. Two later films depict a surreal and futuristic New York City through the story of a half-man, half-rat character: Glue Trap Lust (2000, color, 22 minutes) and its sequel, Son of Eyeball Man (2002, color, 22 minutes). The last art video Vics wrote, filmed and edited is entitled Attack of the Flying Head (2009, color, 7 minutes), an absurdist satire on info-commercials, cultural masculine antics, and sex pharmaceuticals. Art videos by Vics usually incorporate his own original musical scores and cartoon animation; some of them also incorporate puppetry by artist Dave Stuart (whom Vics first met in art school at Alfred, and with whom Vics continued to collaborate).
Vickers was also the photographer and editor for a full-length documentary film about the last days of New York City's Fulton Fish Market, entitled, Up at Lou's Fish (dir. Corinna Mantlo and Alex Brook Lynn). This film that included footage of this historic city food market before, during, and after its notorious move at the hand of New York City politicians to Hunt's Point in the Bronx, won numerous film-festival awards including Best Feature Documentary at the Evil City Film Festival that year.
Film photography & Editing: Up at Lou's Fish (trailer)
Animation
Vickers at heart was a visual guy ... and he was drawing cartoons and attempting to animate them even as a child with family video equipment. He would continue this love into adulthood and make it his professional business. BELOW is his "Animation Reel" with various clips, as well as some full-length animation examples from both his film and music-video art.
Film Animation
ABOVE: Animation stills by Vickers Gringo, Video Short by Hamptons Film Festival screenings,
2009.
video work for 2-man music duo, 2006-2008:
the handsome public
Vickers Gringo worked with singer-keyboardist Alex Rosen, a.k.a., Dr. Rosen Rosen, for two years, recording, making videos, and performing. Most of their performances took place in New York City music venues. However, the band was also invited to perform at the 2007 Icelandic Airwaves Festival, where the duo was received by enthusiastic Reykjavic rock fans. The Handsome Public, as the Vickers Gringo-Dr.Rosen Rosen team called itself, also performed in London. Vickers would use that London cityscape to shoot & direct The Handsome Public's "Juice Heads" music video, to which he would also add some of his brilliant animation.
vickers makes a trojan commercial
The following video was directed and animated by Vickers Gringo as part of a Trojan Commercial contest in 2008.
Vic's Demo version of Deuce music video "I Snorted My Father"
Art Video directing & production
attack of the flying head (2010)
Attack of the Flying Head was written, directed and edited by Vickers Gringo -- starring himself as an Info-Commercial crazy man.
Vic's Video Collaborations with Ronni Raygun Thomas
Known for his own wild, partially animated film scripts, Vickers also was sought out as an actor. He performed both in his own art-video films as well as in many works by art-video director Ronni Raygun Thomas (who recently was named a Tribeca Film Festival director). Both also sometimes worked in collaboration with the well-known director-producer Bob Giraldi. Vickers was often the actor they chose to play the most difficult roles, from a deviant mime to a zombie to a crazed piano player.
The Thomas-Giraldi video collaboration It's a Small World (2009), which ran as a commercial for the School of Visual Arts, featured a comic "Vickers" character encountering the tiny spaces of a New York life, from waking up in a small apartment bed to having coffee in a minuscule cafe to watching movies on a reduced iPhone screen in a petite living room. Thomas's Radio Girl (Underground Melody) (2010) also featured Vic's acting performances, in its strange tale of a Downtown "underground" dinner date gone wrong. Vickers' role was that of the Underground Man dining with his girlfriend, a female Radio head, to the tune of the London-based band The Real Tuesday Weld.
Vickers' actor reel (ABOVE) includes his performance in It's a Small World, as well as clips from a few of his other collaborations with Thomas. BELOW are several of Thomas's films or commercials, featuring Vickers Gringo as an actor. They include (BELOW) Mimes of Passion (2009), in which Vickers plays that devious obnoxious mime walking around Coney Island; the piece Radio Girl (Underground Melody); Zombie Proposal! (2009), made as a real-life wedding proposal, and in which Vickers plays the loveable zombie roaming Central Park. Commercial spots (BELOW) include one made for Doritos (starring both Vickers and Thomas himself hamming it up, who plays the sax player in a blonde wig) and for Trojan condoms.
VICKERS PERFORMS FOR HATEBREED VIDEO
Paul Daniel Lyon, a.k.a. Vickers Gringo (1978-2010), was a multi-media and performance artist in New York City. "Vics," as he came to be called by friends, worked in an artistic integration of media, including video, graphic art, cartooning, animation, and music. Vickers named his professional website www.70millionrats.com, after the title of his comic series "70 Million Rats," which he began drawing and publishing in 1998. That site will soon be defunct, replaced here by www.seventymillionrats.com as a tribute to and also continuation of Vickers' enormous life passion and artistic work. Regular updates about shows, availability of art and ecordings, and the Alfred University endowed art scholarship in his name will be posted on the News and other pages on this site, which has been developed by the Paul "Vickers" Lyon Art Estate, his family and friends.
BIOGRAPHICAL NOTES
"Vics" was born in Santa Fe, New Mexico, to parents who were writers and academics. His parents would divorce, and he would be raised by his mother first in the San Francisco Bay Area, and then New York City, where the family moved when he was 13. He also spent a year living in Paris and Brittany with his mother (a college professor) in 1990, where he first studied art and toured archeological sites. These adolescent travels and much time spent in the Louvre and other Parisian museums helped develop the Vic's love of art history as well as the making of art.

 

From the time the young Paul Daniel held a pencil, he was drawing exquisite and philosophically intriguing comics. Some of his extant juvenilia includes a series entitled "Man Was Better Off Furry," from 1992 (when he was in middle school), and the earlier "book" (unpublished," entitled "Sea-Cowboy," whose Chapter 1 was called "Born as a Boy, Raised like a Fish"). He amused, engaged, impressed and illuminated friends, parents, and extended family with his original and often radical visions of the world set forth through comic characters, including a toad named Morgan, and a later series based on Morgan's exploits entitled "Toads in Space." Some of these works are available in the Vickers Archive and continue to delight people who pour through this gifted child's work.

 

Vickers also sang with his musical family members, studied Suzuki violin at 9, impressing audiences at school and community events in Palo Alto, California where he lived from age 7 to 13, with his perfect pitch and talents. By the time he was 15, and living in New York, Vickers taught himself to play guitar. He never read music, but he had perfect pitch as a singer from a very young age. By late 1992 and then residing in NYC-Manhattan for over a year, he was accepted to LaGuardia High School for the Performing Arts in both music and visual art. He would then continue his multi-media art studies on a scholarship at 18, at the Alfred University School of Art and Design.

 

It was in the early years at Alfred that he invented the "Vickers" cartoon character, inventing a bizarrely humorous alter-ego identity. This character would come to dominate his artist books and comic narratives alike. While in art school, however, he studied multi-media visual art forms in general, focusing on the video arts under Professor Peer Bode, as well as sound design under Professor Andrew Deutch. Vickers flourished as an artist in the tight-knit if bohemian arts community of Alfred, with its rambling studios in remote Upstate New York that allowed him to explore the plastic as well as multi-media electronic arts with top-notch artist-faculty. Competing against some of the best young artists in many media in the state of New York, Vickers would win the faculty juried Alfred Senior Art Award when he graduated with a B.A. in Art in 2000.



Under the pseudonym "Vickers Gringo," he began publishing his cartoon series "70 Million Rats" while he still a college art student. He would become a regular cover artist for The New York Waste, the East Village monthly targeting the edgy arts and music scene in the Downtown and greater New York City region. "Vickers" became a regular cover artist for and contributor to The Waste during the next decade. An anthology, The Best of 70 Million Rats, was published by Zaza Graphics.

 

Paul "Vickers" Lyon, as he came to call himself professionally, was an accomplished rock musician as well as cartoon artist, who worked as a video editor as a living. As a rock musician, Vickers first founded a band called The Original Tough Guy Syndrome while still a college student at Alfred. This performance rock group critiqued as well as re-incorporated forms of cultural masculinity into its stage routines, and for a time was renamed The Bronze before permanently called The Deuce & a Quarter (named for a grandfather's Buick). In various group incarnations and for more than a decade, Vickers performed in The Deuce & a Quarter as lead guitarist, vocalist, as well as its lead songwriter. Taking a break from The Deuce in 2006-2008, Vickers was part of a two-man duo with singer-keyboardist Dr. Rosen Rosen, called The Handsome Public (2005-2008), which toured Iceland as part of the Icelandic Airwaves Festival and the U.K. in 2008.

 

Vickers' video art became a mainstay to any "Vics'" musical performances, several of which are available on this website though YouTube. And Vickers's narrative video short features have been featured in a number of New York area film festivals. Performing main characters in his own zany art-video scripts, Vickers would become sought out as an actor. Some of his best acting work was achieved with directors Raygun Thomas and Bob Giraldi. Vickers also edited music videos for other rock bands that appear on MTV and YouTube, and occasionally performed in these videos, as in the Hatebreed's "Thirsty and Miserable" video, in which he represents the band as a disenfranchised corporate employee kicking off for the day and having a wild time.

 

Vickers last music video, "Big Rig," made for The Deuce & a Quarter, was completed by band members and the video-editor and musician Ian Hudgins. It is available on YouTube and is featured here (ABOVE) along with other videos and images from that band.

 

Vickers passed away suddenly from undiagnosed heart disease in his Brooklyn, NY, apartment on August 8, 2010, and was buried in the Woodstock, New York, historic artist's cemetery, where many other gifted musicians, writers, and visual artists have been laid to rest. His copious video and other art works have been preserved in the Vickers Archive, a 10 x 10 cedar-wood structure in the forest of Woodstock, which is both a shrine surrounded by beautiful summer gardens and an active working studio open by appointment to those interested in further exploring Vic's work (see contact page). A scholarship recently endowed in his honor has been established at the Alfred School of Art and Design, and which will be distributed to a deserving multi-media art student beginning fall of 2016.